The new updates for the second quarter are finally there. The Tracklist of BODYCOMBAT Release 80 is on the official Les Mills website (global version).
With this we also celebrate the 20th anniversary of BODYCOMBAT🎉. BODYCOMBAT has grown enormously with the recent releases.
The intensity is higher, music has changed and improved, choreo is more focused on cardio and strength and yet MMA styles in between.
BODYCOMBAT has had two pairs of Program Directors in the last 20 years.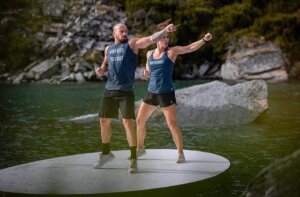 From BODYCOMBAT Release 1 to Release 20 , Nathaniel and Gabriela Leívas were the original Program Directors when they moved on to South America for their own MMA concept.
From Release 21 to now , Dan and Racheal are the Program Directors of BODYCOMBAT and they have further developed BODYCOMBAT – with the help of various resource departments within LMI. A new Release is devised for the instructors every 12 weeks, which means that LMI (Dan & Rach) is ahead of a number of Releases, but this is purely for filming. With normal teaching they give the current program.
Q2 Updates
* BODYCOMBAT 80 Tracklist are now online!
* BODYCOMBAT 80 Trailer, Les Mills Hero "Be Moved" Trailer and Become an LES MILLS BODYCOMBAT instructor Trailer is online. Look here!
* The new "Be Moved" campaign will be phased displayed on our website.
* Pre-register yourself for the amazing legendary fitness indoor festival this year on the 9th of november, the Dutch MegaQuaterly 2019. Do it here at: www.megakwartaal.nl !
* There is some summer small discounts at the Reebok Store.
Do you have another ideas or some suggestions or do you have other questions? Please feel free and don't hesitate to contact us! We like to hear from you.